Pragmatic Diplomacy
【Lee Teng-Hui's diplomatic approach】
  During the presidency of Lee Teng-Hui, he visitied countries with no official diplomatic relations such as Singapore, Philippines, Thailand, Indonesia, Jordan, United Arab Emirates, United States. He also visited allies such as Sounth Africa, Panama, Honduras, El Salvador, Paraguay, which widened and prospered the diplomatic field of the Republic of China.
【Visiting Singapore】
  In 1989, he visited Singapore as the President of the Republic of China and met with the Prime Minister of Singapore, Lee Kuan Yew. Lee Teng-Hui was unsatisfied but thought it was acceptable to be called "the President from Taiwan" by Lee Kuan Yew as stated in the interview with the press. After this visit, it was not until the year 2015 that President Ma Ying-Jeou visited Singapore again to condolence the death of Lee Kuan Yew and attend the meeting between two leaders across the Taiwan Strait.
【Diplomacy and participated organizations】
  In September 1993, several attempts to enter the United Nations was blocked due to the interference by the People's Republic of China. In January 1994, "the South directional policy" was implemented to further enable the interactions with Southeast Asian countries in economic and trading relations and partnerships in technical supports. Also, attempted to go by the name "Chinese Taipei", which is later called "the Olympic method" to participate in different global meetings and competitions.
【Participations in different international organizations】
  In November 1991, became a member of the "Asian-Pacific Economic Cooperation" (APEC) under the name "Chinese Taipei". In September 1992, became a member of the "General Agreement on Tariffs and Trade" (GATT) under the name "The Separate Customs Territory of Taiwan, Penghu, Kinmen and Matsu". In January 1995, maintained the status of observing country in the newly formed "World Trade Organization" (WTO).
▲ Source:《Photo gallery of Lee Teng-hui》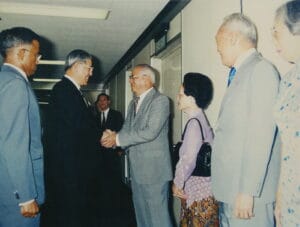 ▲ Singapore's Prime Minister Lee Kuan Yew and dignitaries welcomed President Lee Teng-hui and President Lee to attend a press conference on his return/Source:《 Photo Album of Lee Teng-hui》
---

Reference: 《Wikipedia》 |《Lee Teng-hui Photo Collection》