Lee Teng-hui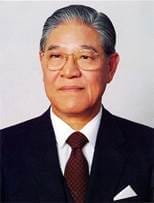 ▲ Lee Teng-hui introduced/Source: 《Wikipedia》

| Category | Introduce |
| --- | --- |
| Name | Lee Teng-hui, Masao Iwasato Iwasato (Renamed Emperor Democratization Movement) |
| Gender | Man |
| Birthday | January 15, 1913 |
| Died | On July 30, 2020, he died in Taipei Vinh General Hospital due to septic shock and multiple organ failure at the age of 97. |
| Place of birth | Sanzhizhuang (Sanzhizhuang), Tamsui County, Taipei, Taiwan. (present-day Sanzhi District, New Taipei City) |
| Politics | The first democratically elected president of Taiwan (7th to 9th) and chairman of the Chinese Kuomintang. |
| Family | Father - Li Jinlong, mother - Jiang Jin, wife - Zeng Wenhui, son - Li Xianwen, eldest daughter - Li Anna, second daughter - Annie Lee, granddaughter - Li Kunyi (daughter of Li Xianwen) |
| Faith | Originally a Buddhist believer, he came into contact with Christianity on the recommendation of his wife. |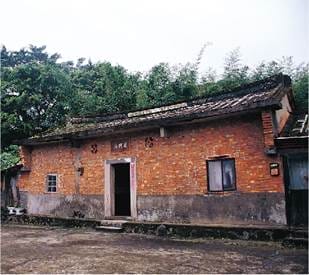 ▲ Lee Teng-hui's birthplace is Sanzhiyuan /Source:《Wikimedia》
  Lee Teng-hui was born in Sanzhi District, New Taipei City, his family is relatively wealthy, he has three children, and Lee Teng-hui is the second oldest.
  During the school stage, Lee Teng-hui received a good education because his family conditions were not bad, and his father Li Jinlong attached great importance to it. However, because his father was a Japanese criminal policeman, his position was frequently transferred, resulting in Lee Teng-hui transferring schools all the time at the elementary school stage, so he could not make good friends. In 1943, after graduating from high school, he went to Japan to study at the Department of Agricultural Economics of Kyoto University, and later because of the outbreak of World War II, Lee Teng-hui's studies in Japan were interrupted and forced to return to Taiwan, and in 1949, he graduated from National Taiwan University. In 1965, he studied for a doctorate in agricultural economics at Cornell University, returned to Taiwan and returned to work for the then China Rural Revitalization Joint Committee (CARP), and began to enter the political arena.
  Chiang Ching-kuo, Taiwan's chief executive at the time, valued Lee Teng-hui's agricultural expertise and recruited him to serve as an administrative councilor of the Executive Yuan. After that, Lee Teng-hui's political path began to soar, first as mayor of Taipei City, then chairman of the Taiwan Provincial Government, and in 1984, he was promoted by Chiang Ching-kuo to vice president.
  In the middle of the period, on May 1, 1991, Lee Teng-hui abolished the "Provisional Provisions for the Period of Mobilization and Counter-insurgency" and promulgated the "Additional Articles of the Constitution of the Republic of China" at the same time. Later, on March 23, 1996, the ninth presidential election of the Republic of China was held, which was the first democratically elected president and vice president of the Republic of China.
  In his later years, Lee Teng-hui choked when drinking milk, causing a severe cough, and was rushed to Taipei Vinh General Hospital, and after being sent to the hospital, he was diagnosed with pneumonia caused by lung infiltration, followed by persistent inflammation and fever, and pulmonary fluid could not be completely excluded, only controlled with antibiotics, and often in a coma, and finally, died of septic shock and multiple organ failure on July 30, 2020, at the age of 9 7 years old. In the same year, Lee Teng-hui's farewell service was held in the Great Chapel of Truth University, attended by family members, funeral officers, dignitaries, international friends, etc., and at the same time, a "national venue" for the public to participate in the farewell ceremony was set up in Tamkang Middle School and broadcast live.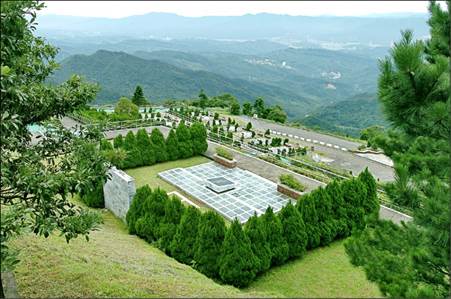 ▲ Lee Teng-hui died of illness and was buried in the "Special Honor District" of the Wuzhishan Military Cemetery planned by the Presidential Office according to the specifications of the state funeral.
/Source:《 Liberty Times》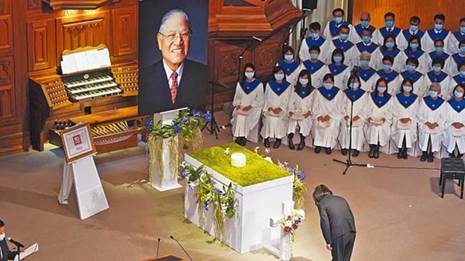 ▲ The farewell service was held on September 19, 2020 at New Taipei City Truth University./Source: 《Apple Daily〉
---