Early political career of Lee Teng-hui
【Succession as President 】
  On January 13, 1988, Chiang Ching-kuo, the then-chairman of the Kuomintang (KMT) and President of the Republic of China (ROC), passed away. Lee Teng-hui succeeded him as President in his capacity as Vice President.
  On January 27, Lee Teng-hui became acting KMT chairman, and officially assumed the position in July, becoming the first Taiwanese KMT chairman and the first president of the ROC to be elected from Taiwan.
  On June 4, 1989, the Tiananmen Square protests and the resulting crackdown occurred in mainland China. Lee issued a statement that evening: "The inhumane actions taken by the Chinese Communist Party will undoubtedly be judged by history. In protest against the CCP's use of force to suppress the democratic movement, on behalf of the government and people of the ROC, I urge all freedom-loving countries and individuals who value human rights to strongly condemn the CCP's atrocities."
【Reforms during presidency】
  On May 20, 1990, Lee Teng-hui was elected President of the ROC in the first presidential election held by the National Assembly, becoming the eighth President of the ROC. Lee's running mate was Lien Chan.
  In May 1991, Lee Teng-hui announced the termination of the period of mobilization for the suppression of communist rebellion, abolished the Temporary Provisions Effective During the Period of Communist Rebellion, and launched the first constitutional amendment, which established additional provisions for the election of various central democratic institutions.   
  In 1993, Lee Teng-hui's native faction, known as the "mainstream," took over the leadership of the KMT. The other KMT factions, primarily made up of outsiders, were commonly referred to as the "non-mainstream."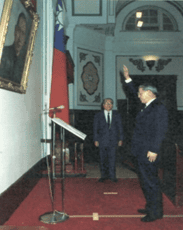 ▲ He was sworn in as the seventh President at 8 p.m. on January 13, 1988
---