Lee Deng-cin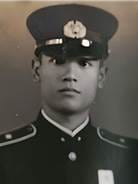 ▲ Lee Deng-cin/Source: 《Wikipedia》

| Category | Introduce |
| --- | --- |
| Name | Lee Deng-cin |
| Gender | Man |
| Born | Born in 1921 in Sanzhi District, New Taipei City |
| Pass away | He died in Manila, Philippines in 1945 |
| Identity | The eldest son of the Li Jinlong family and the elder brother of Lee Teng-hui |
  Lee Teng-chin graduated from Tamsui Higher Primary School, became a police officer in 1938, married his wife Li Hongwei in the same year, and served as an inspector in Taipei Prefecture in 1942, and in 1940, Lee Teng-chin was inspired by the imperial nationalization movement and decided to let the family change the Japanese surname "Iwasato", and Lee Teng-chin changed his name to "Iwasato"
  In World War II, Lee Teng-chin applied for the Navy Special Volunteer System in 1943, entered the Naval Volunteer Training Institute on October 1, 1943, and went to the Kaohsiung Naval Corps on April 1, 1944 for a three-month professional training. I've never been so excited in my life. From now on, I only pray that the day when I become a dignified imperial navy and serve the country will come soon.
  In July 1944, Lee Teng-chin went to the Philippines to participate in the Pacific War, and during the Battle of Manila in 1945, he was killed by US fighter fire on a warship on February 15, and sank into the sea with the warship.
  In 2006, Lee Teng-hui went to the Yasukuni Shrine in his private capacity to mourn Lee Teng-chin
| Date | Life stories |
| --- | --- |
| 1921 | Born |
| 1938 | Worked as a policeman and married a wife at the same time |
| 1940 | Name Japan changed |
| 1942 | Served as an inspector of Taipei State |
| 1943 | Entered the Naval Volunteer Training Institute |
| 1944 | He went to Kaohsiung for training, and before July, he went to the Philippines to participate in the Pacific War |
| 1945 | Pass away |
| 2006 | Lee Teng-hui went to Japan to mourn Lee Teng-chin |
---

Resources:《Wikipedia》